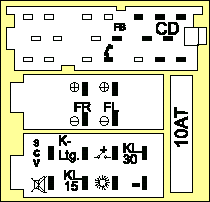 Head unit pinout abbreviations
Pin
Notation
Pin function

Power pins

KL.30
Battery+ (12V direct from Battery).
GND, GROUND
Chassis Ground
KL.15
Ignition powered. +12 V with the ignition key is in the ACC or ON position.
lightbulb image
Backlight adjustment
__/ +---
Switched power out

Audio pins

FR+ or RF+
Front right speaker out
FL+ or LF+
Front left speaker out
RR+
Rear right speaker out
LR+ or RL+
Rear left speaker out
FR- or RF-, FL- or LF-, RR-, LR- or RL-
The corresponding speaker ground

Misc. pins

strikeout speaker
This pin is used to silence the audio, earthed by some other external components that is connected to the radio.
SCV
This pin is used in some radio equipment to automatically boost up the volume. It needs the output from the speed sensor.