Peugeot Boxer pinouts
The connector/pinout information provided here is applicable to the following device:
Device name: Boxer
There is one pinout found for Peugeot Boxer.
The pinout (pin-out) is a cross-reference between the contacts (pins) of an electrical connector and their functions. The link to apprpiate pinout shown as a table or diagram are listed below.
An electrical connector, is an electro-mechanical device used to join electrical terminations and create an electrical circuit. Electrical connectors consist of plugs (male-ended) and jacks (female-ended).
The connector associated with this device :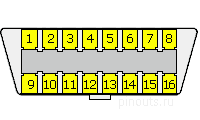 16 pin J1962 OBD-2 car proprietary connector