HP Pavilion x2 pinouts
The connector/pinout information may be applied to the :
Vendor: HP
The Hewlett-Packard Company (commonly referred to as HP) or shortened to Hewlett-Packard was an American multinational information technology company. It developed and provided a wide variety of hardware components as well as software and related services to consumers, small- and medium-sized businesses (SMBs) and large enterprises, including customers in the government, health and education sectors.
Device name: Pavilion x2
Buses and Slots Pinouts
There is one pinout found for HP Pavilion x2.
The pinout (pin-out) is a cross-reference between the contacts (pins) of an electrical connector and their functions. The link to appropriate pin assignment diagram is listed below.
The connector associated with this device :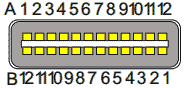 24 pin USB-C connector