HTC M10 pinouts
The connector/pinout information may be applied to the :
Vendor: HTC
HTC Corporation is a Taiwanese consumer electronics company headquartered in Taiwan. Founded in 1997, HTC began as an original design manufacturer and original equipment manufacturer, designing and manufacturing devices such as mobile phones and tablets.
Device name: M10
Buses and Slots Pinouts
There is one pinout found for HTC M10.
The pinout (pin-out) is a cross-reference between the contacts (pins) of an electrical connector and their functions. The link to appropriate pin assignment diagram is listed below.
The connector associated with this device :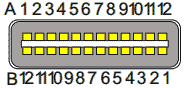 24 pin USB-C connector