Mazda 323 pinouts
The connector/pinout information may be applied to the vendor
Mazda
, model 323 in category Automotive Diagnostic
There is one pinout found for Mazda 323.
The pinout (pin-out) is a cross-reference between the contacts (pins) of an electrical connector and their functions. The pin assignment diagram is listed below.
Click for details
Mazda OBD II diagnostic interface pinout
An electrical connector, is an electro-mechanical device used to join electrical terminations and create an electrical circuit. Electrical connectors consist of plugs (male-ended) and jacks (female-ended).
The connector associated with this device :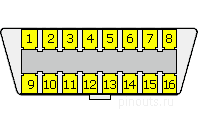 16 pin J1962 OBD-2 car proprietary connector